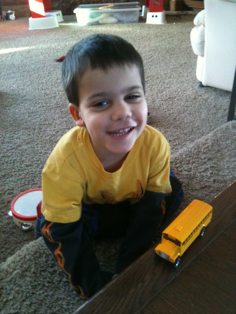 Just a funny snippet, today the "knight" was walking out of Oatie's school with me when he saw the girl with crutches for the first time, and he was shocked that she was parked there, (he didn't see this mum yesterday) and he seemed genuinely annoyed that she gets to park there but not offered once to Oatie... so he loudly said slightly sarcastically, loud enough for the mum to hear, "Maybe you and I should park there, we have little kids, we have our arms full..." at which point I was grinning, (as I knew why she was parked there), so the mum very curtly snapped back " my daughter has Broken her leg, so I
HAVE
to park here or
she can't
come to school!!!!", I couldn't resist, I wanted to seize the moment, (not to be mean), but I really wanted to plant the seed in this ladies head, that other people have that "inconvenience" that she is experiencing
everyday
- forever... (her daughter has 6 weeks of difficulty getting about) so I said, "well my son is disabled" and she could see that I was walking back to where we had parked, he then later said that's "outrageous" (at the two tier system) shaking his head, which made us both burst out with laughter.
I was so chuffed that someone who wasn't an Oatie supporter at all has turned around so much, for him to outwardly say to the mum (the girl with the broken leg) that it was an outrage, to saying that if I wanted to park there for Oatie, he would help me campaign the school. If Oatie was older/heavier or more physically restricted then I would, but now we're parking where the path is the same distance, but just about walkable and is flat, I don't mind the trek.
Our town seems to be open to disabled people well that's what they advertise, I'll be seeing how friendly it is as my next stop is campaigning at our rink for inclusive skating to be permitted! One human on side, a few thousand more in town to go...