Today my little girl was in the first group to skate, and she got her first medal... It was Gold. Before she found out her result she said she had a great time and didn't mind if she came last.
The boys in the same category all age ranges skated against each other, usually there is an age split. So there was a 5-6 years of age between the youngest and eldest. Which when your kid is 6/7 its a big gap... Well my eldest had a great skate and came 4th which was brilliant...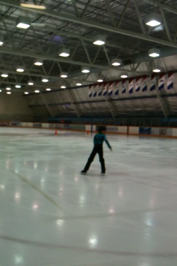 What I admire is his sportsmanship he went and shook the hands of the guys who got medals and said well done. I was very proud of him.
Day two tomorrow, it's a team event with one of their friends.
And here is the cheerleader...