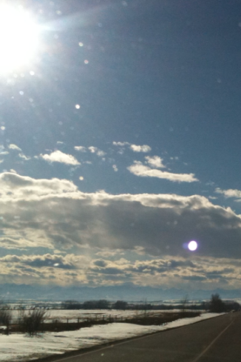 I love the sun here, you can see the moon and just off the horizon the dark is the mountains.

Well, we have our extended Ipad2 Charging cable... Yipee! It arrived today. 31 days till it (magic book what Oatie calls the Ipad ) arrives. I hope that Otterbox's defender case will be ready too as the estimation should coincide with the delivery of the Ipad2. They (Otterbox) said that they didn't have the dimensions of the Ipad2 till it was released in the USA. I am sure that apple and such like companies, don't like Otterbox as they stop your lovely gadgets from breaking and would rather you buy their cases. A friend of mine told me how she recently DROVE over her iphone in it's defender case and was still fine. (not sure I'd want to try that one out and decided to take her word for it...lol!)



Oatie has been so much better today, he ate his all his dinner and is still chesty but we managed 1.5 hours of ABR I was tempted to go for a second hour after dinner while my two Beavers were at Beavers, but he was actually enjoying playing for the first time in a few days and it was nice to play with is Scooby Doo pirate ship with him.



Just made 3 banana breads which are baking and about to start cutting out for the gold skirts, The Skirts are for a team event with my two skaters. My older son, has the same material as my daughter and their friend, on the top with a swoosh (which he drew) and he'll wear his black skating pants... The Girls have the same material top and matching gold from the girls hotpants (Kylie style) which they competed in December, and this time the girls are having gold skirts out of the same material as the hotpants. I am always apprehensive about sewing for someone else (unless it's a surprise/gift), for a start I never charge for making (just the material) and I just hope it fits, which is usually does, I'm just a bit of an over perfectionist all the seams must line up and the gathering has to be just so.., my kids even show me the ill made skating clothes in the store (to make me feel better) with one inch out wasit seams to the skirt... and they (at this moment) still LOVE me making their skating clothes as they are unique and made to fit them.



Well I had better get back to making the skirts, the girls need them in 10 days time... yikes!