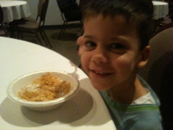 Oatie at Breakfast
That's Better.... Sorry about the Scrolling-looping HTML blog Entry,,, all I can say is the preview looked ok... maybe it (blogger) had jetlag... lol!Well... We made the plane.... Not the plane that was delayed... They cancelled that one... So they us on another one with a connection that we were going to miss that connection too.... Well... From being ground staff for a major airline... I was like... What's wrong with the later direct flight... They were like ohhhhh we didn't think of that... But they were actually great and they went the extra mile for sure... They went and offloaded our bags from the other connecting flight... And managed us to get us and hopefully our bags onto our direct flight which..... Should get us back home... At the same time as our original flight...
Oatie Watching TV with his sister
So we're on the plane... We've been airborne for 1:15... So almost and ABR session to go... Lol!
Well even now we'd be getting our bags off the carousel... Instead we're at home, kids had dinner and been asleep for hours, all unpacked one wash done... School lunches made...
We had a brilliant flight, I have to say that WestJet is a nice good airline... The service is usually really good. I've only had one bad flight with them... And I'd say in my top 5 airlines EVER for sure.
SUNNY Calgary's night sky when we landed
Well had a comic moment... I used the Trapster apple app to find a gas bar near Montreal Doval airport... And well two of the gas bars that it lead us to have been dug up... The third was a two pump affair... It was $1.48 per litre... So I was like noooooooopppee. The Full serve man got a bit heated as we said no... So we decided that we'd expect the hire company to fleece us but it couldn't be worse than that surely... The hire company man was like I'm sorry but it's $1.26 a litre... Well I was like that's a bargain...lol! I have never seen such a gas unavailable airport... The ones in the UK are like... Last gas... And are dotted from each angle you can enter the airport... Well driving to YUL at least is never dull... Google Maps seems to cope with the constant digging pretty well...Oh and I had a crew moment when I asked for a tomato juice and she said back,tomato (uk) pronunciation or tomato (Canadian) and before I could answer she said we dont have tomato juice (uk pronunciation) only tomato juice! Lol! Love it!
The kids all got to sit in the Captains chair upon landing.... Oatie too, and he held his WestJet pen all the way on the return flight and till he got to bed...
Oatie eating his snack on board...