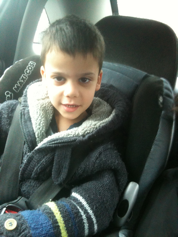 Last night we took the kids swimming in the pool... which they loved... Oatie hasn't been swimming since Halloween because he's ben ill after ill after ill...Today, we started our session by setting up yesterday's intensive ball-rolling and in our case it was Oatie's Ribs...
Today we did the brand new ball-rolling technique where you submerge the head or body part in a ball, so in effect they look like TOAD from Mario... it doesn't hurt and Oatie LOVED it. We also did the Shoulder Edge
by that technique.
After lunch we were all tired either from the trip or training so we chilled out at the hotel,
went for a bite to eat before Oatie's 6 month interval photo session. He still cried but not as bad as before... he showed off how he could pull up his pants and how he can now crawl alternating legs if he wants and how he can walk and bend down and pick up an object....
So training is going great and one more day tomorrow where we get the 4th channel for our machine, which he'll be getting some machine ABR for his hips...
OK and the sun didn't last for long, it's rained all day...! Really enjoying the training and looking forward to tomorrow...
love
Oatie's Mum